Get your team ready for the next project ahead!
With this limited time offer to buy one test system and get a second of equal or lesser value for 50% Off.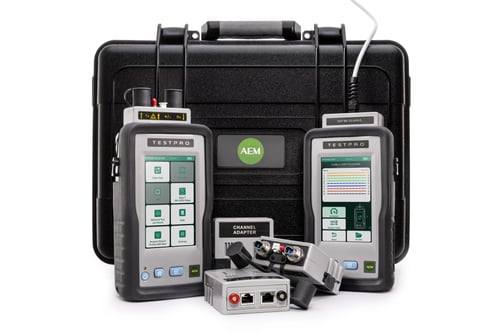 Why TestPro?

The TestPro CV100 is a Multifunction Cable Certifier, that has the power to take you from Installation to Implementation with hot swappable test adapters, and the ability for the two handsets to be separated and independently deployed into wired and wireless network connectivity testers.

Why this is important?

Even if you already have a tester brand you're already using, in today's world of connected devices, you're likely to have needs that go beyond just certifying the cable. Have a big job and need to throw more certification equipment behind it? Bring the two handsets back together as Main/Remote and certify in 6 seconds!

Looking for ways to expand your service offering, and add new lines of revenue? TestPro's unique breadth of test function means you can get more done in less time, with a single test solution that takes you beyond just certifying the cable.

TestPro is simply the most feature rich test solution on the planet, yet economically priced to fit your budget.
Sign Up!
Let us help you with the quoting process to include this special offer for your preferred distributor. Fill in the form below, and one of our team members will reach out, and get the ball moving.
Only need one TestPro? Submit your details and we will reach out to you about our competitive prices.
Terms & Conditions
Buy a TestPro Kit, and get a 2nd of equal or lesser value at 50% OFF.

Your 50% OFF TestPro Kit can be the same or different model.

BOGO must be on the same PO

.

Offer valid February 1, 2023 - May 31, 2023.

This offer is limited to the United States and Canada.
Eligible TesPro CV100 Models
TestPro-K50E

TestPro-K51E

TestPro-K60E

TestPro-K61E

TestPro CV100 Multifunction Cable Certifier
The award winning TestPro CV100 Multifunction Cable Certifier is purpose-built for today's modern Smart Building network infrastructure. It offers the most feature rich test platform available today, and the modular based platform that allows for customization of the exact test suite needed. Smart Building Test Kits (K60E & K61E), offer a complete test suite pre-packaged to meet all your testing needs.
Customer Testimonial - GCL Ltd.
❝ The dual screen and speed of the tester is a massive difference to previous testers we've used, and makes us more efficient when we are doing the testing procedures. The support behind AEM is very good, the engineers don't have to liaise with management within GCL, they can go directly to the support teams, and the response time is very good as well. The quality is very good, and the tester is well made. ❞
Tim Rycroft
GCL LTD
TestPro Brings Home the Gold
❝ AEM was awarded the 2022 Cabling Innovators Award for its Test Pro's ability to support installation to implementation. AEM's test Pro allows you to deploy two platforms at once and give them to two different technicians to do things that you want them to do on a given day. One main can also talk to many remotes.❞
Lisa Schwartz
AEM Precision Cable Test