Tech Talks with Steve: Episode 20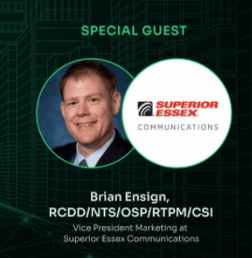 Watch the podcast where Steve Cowles, RCDD, NTS and special guest Brian Ensign, RCDD, NTS, OSP, RTPM, CSI – Vice President Marketing at Superior Essex Communications as they discuss PowerWise, an industry-leading power-over-ethernet cable that can support cable distances up to 160 meters.
Steve shares how AEM's purpose-built field testers support a wide range of smart building technologies to assure infrastructure readiness as the Cabling Infrastructure is the Foundation of a Smart Building.
Simply fill out the form to watch the episode.